£10 -ALL profits go to the welfare of the dogs in our care
Get your Rottweilers in Need 2024 Calendar,
£2 P&P will be added at the checkout
PLEASE READ BEFORE ORDERING:

These items are sold to help pay ONLY for the care of Rottweilers in need. We do try to offer items you can only buy from us! Yes folks this is all exclusive stock,
(unless you can find it elsewhere that is)! Postage is expensive and is added on a sliding scale at the checkout unless it is a particularly heavy item
and expensive for us to post. These heavy items will have the postage costs clearly displayed for you to see.
Because the postage is so expensive we try to attend most functions and shows
where you may buy without postage or arrange to pick up your order without attracting the postage cost.
Postage for other items will show normally as a separate amount and added at the checkout.
Thank you very much.
ALL POSTAGE COSTS ARE CALCULATED FOR UK MAINLAND ONLY:

This page is dedicated to our 2024 Calendar
The normal shop page should be back later;
2024 CALENDAR IS ONLY IN A4 FORMAT
JUST £10 £2 P&P will be added at the checkout.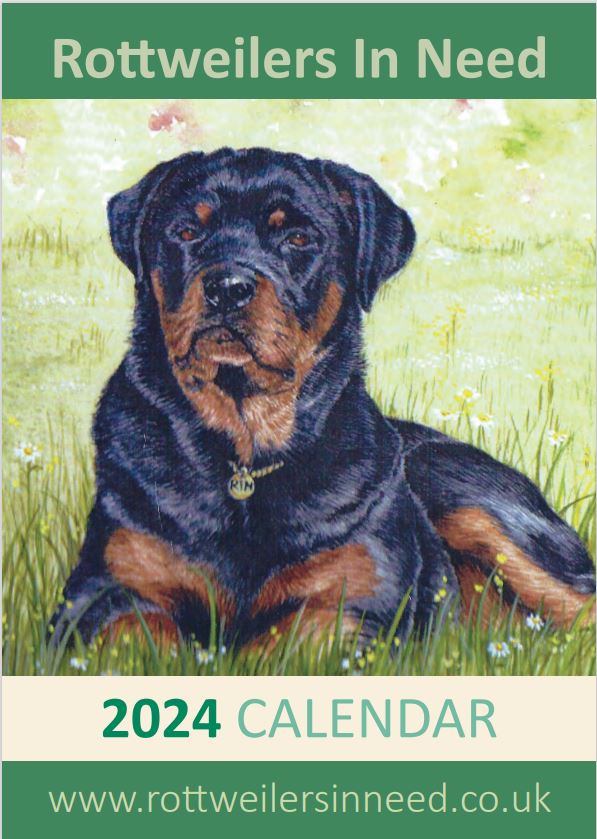 £2 P&P will be added at the checkout
For more information on the process of adoption then please
click here
.