Our Latest News

& Fundraising for 2019

Please scroll down to see all the current news and upcoming events.
Thank you's must go out for donations, many of whom slip through the net
and we don't get to thank you personally through this medium.
Your donations, no matter how they are presented and of whatever size,
are so very much appreciated. So forgive us if we didn't single you out,
but some of you we have managed to catch........

If you want to see the News page for 2013, 2014, 2015, 2016, 2017 or last year
please scroll to the bottom of this page for the links to those pages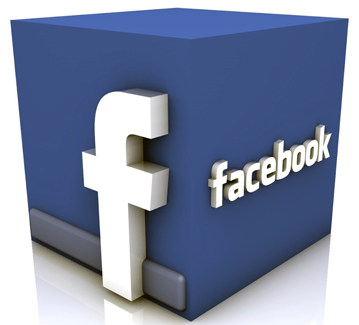 Click the logo to go to our Facebook pages, all run by our wonderful volunteers.

**Click here for the "NEARLY £2K " December Doggo Lotto result**
The doggy lottery is gaining in prize money, there was a pot worth £1778 for December
16 rescues benefitted from it and the main prize was £592.66p
Surely, we can get that up to £2K !! for January?
***+***
We have to say Thank you very much to so many of you for your generous donations,
the Christmas period was particulary challenging for us and the funds came into their own.
We have some special thanks for Jane Powell, after a long and stressful illness she is back and baking.
Jane you are brilliant, baking and selling your Christmas range for RIN's benefit to the tune of £290.
Welcome back sweet lady from all of us, we are all pleased that you are so well.
Thanks also to Darren Tucker, your donation will go a long way sir!
Clare Lacy is also deserving of applause, thank you for your donation from the
proceeds of another 'on line' dog show, let us know when you are repeating the show,
we will give you a mention and maybe even boost your entries.
Thanks also go to Pets Forum Community for a 'Secret Santa' Donation of £45.
And huge thanks to The Eastern Counties Rottweiler Club, The Dog of The Year has again been
very generous to RIN with a nice fat cheque. Hope to see you all at the show.
***+***
The 2019 Calendar is still available directly from the on-line shop. But only 9 A4's and 5 A3's Left
so - shop, shop, shop...... but quickly..
And there are some items to temp you, see here~ some being modelled by Luke..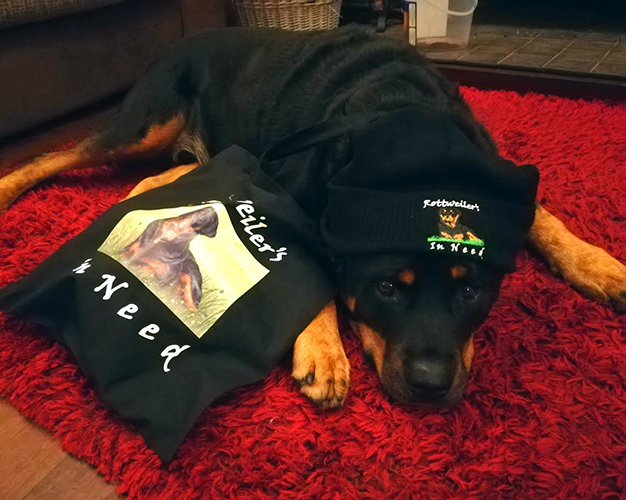 Please Donate any prizes you might have for us to use on the Rottweilers in Need stand
which we take to as many shows as will have us.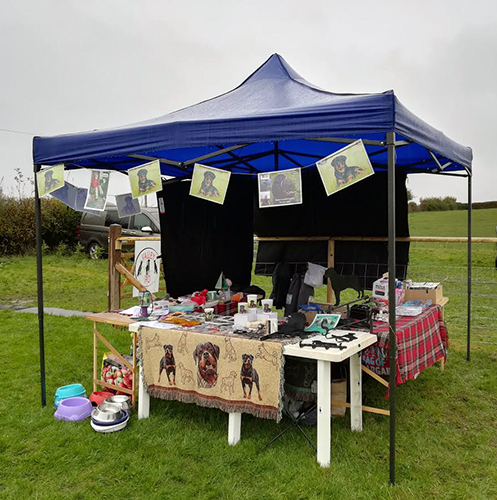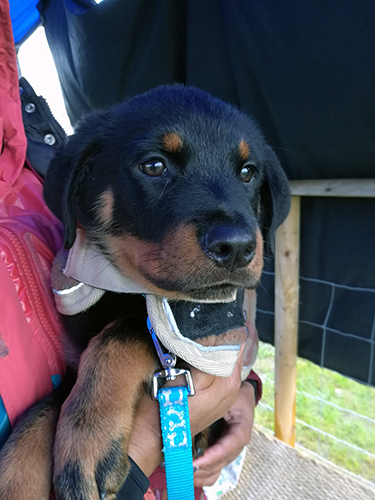 One Wet Stand & One very Cuddly Pup!
***+***
The Great R I N Auction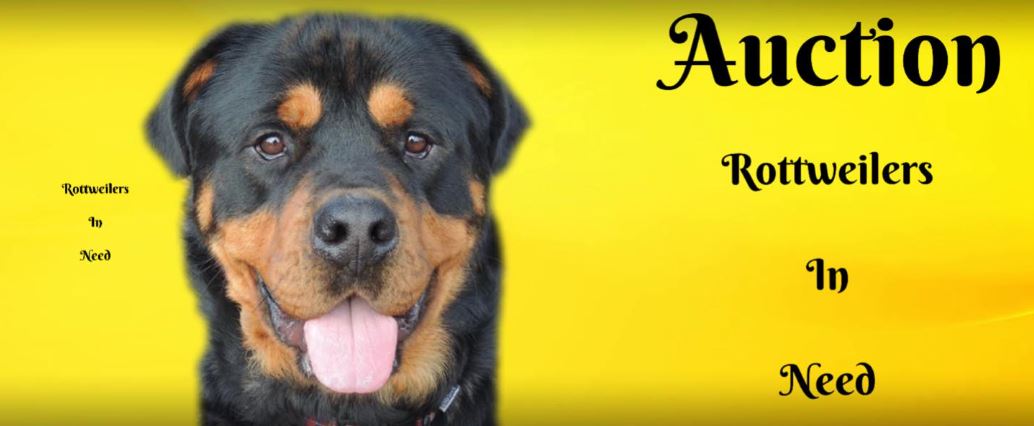 Our Lovely Sharon Davis has taken on the mantle of.......
"The Auction Queen"
The next auction has kicked off already
It will end on January 25th at 1900 hrs
So, take a look here (click the red text!)
Hey! there is even a two-day break for 5 in Anglesey in a 5* bungalow
go to the Facebook Auction to see details.
And BUY, BUY, BUY!!
***+***
YOU BRILLIANT PEOPLE MADE THE DECEMBER PRIZE MONEY £1778!
Jane Whittaker Runs a licenced and therefore, legal, lottery.
It's for the benefit of rescued dogs. It even has a video'd draw!
If you entered last month - do a couple of extra tickets and we can see if we can get to £2K.
That would be over £666 Prize money just waiting for you, the Named Rescue of the Month
and and split between several other rescues.
WE CAN DO IT!!!
Try for that magic £2000.00 and see if we can't push it in RIN's direction for the bigger prize,
so don't forget to click for RIN on your entry.
And the result for December 2018; The last draw of the year,
the single winner ticket number went to; A Antoniou winning £592.66......
16 Dog Rescues split a third
The Named Kennel for January is:
"Caki Bravo"
Let's try to get it over the £2000
Buy an extra ticket it's 2019 maybe your lucky year!~ GO ON YOU KNOW YOU WANT TO!
You can watch the draw on facebook by CLICKING HERE.
What happens is a multiple of £2 is donated, and each £2 donation has a number allocated. At the end of the month
One number is randomly picked, the winning number will receive a third of the pot,
April 2018 for instance, one third went to Rottweilers in need and the remaining third split between the dog rescues that took
more than 20 votes cast by the players. Don't forget to add your vote when you pays yer money!
The main monthly rescues chosen will alternate between Caki Bravo in Bosnia
and the different UK rescues that supply help to Caki.
The idea is to give the less well represented rescues a chance,
an even better reason to buy a few more tickets.
Lets see if we can't get RIN up there again...
It is run solely on Facebook. (search for 'The doggy lottery' on Facebook)
SO, how do we get a piece of this action then;
THE PREFERRED METHOD IS
1: By online bank transfer to:
Rescue, Rehab & Rehome for Dogs.
Lloyds Bank
A/c: 15835268
Sort Code: 30 98 90
NO FEES are taken from your donation if you pay this way.
Alternatively;
2: Use PayPal and pay to rescuefordogs@btopenworld.com writing "for the dogs "
in the notes box please so that it can be allocated correctly -you may add your prefered rescue.
3: As an over the counter payment in a Lloyds Bank branch using the details above.
4: By setting up a monthly standing order using the details above.
5: By cheque made out to Rescue, Rehab & Rehome for Dogs and posted to Jane Whittaker.

DON'T FORGET VOTE FOR RIN THIS MONTH when you buy your ticket, AND WE MIGHT EVEN GET SOME OF THE POT TOO!!
You can contact Jane with a PM on FB or use this email address
to let her know which is your chosen rescue or for her postal address;
CLICK HERE FOR JANE'S EMAIL
*WINNERS WILL BE CONTACTED USING THEIR CHOSEN PAYMENT METHOD*
Well, I'm off to do a regular payment, I might get a third of the pot
to buy something nice with or even donate it!
Thank you for a Good Job Jane!
***+***
.-=*=-.
Stickies.
The items here are on-going fundraisers that keep bringing in funds
and we do want to say: "Thank You Very Much"!




Don't forget to visit our facebook page!




(just click here)



Thank you for all the donations for our draws and tombolas.
Please keep them coming, it keeps our stand supplied ewe know. We can take them from you at shows too!



Churchtown Dry Cleaners
And Yet Again!
A huge thank you to Wendy and Mark McGuire of Churchtown Dry Cleaners
for their continued support. Their collection box continues to bring in a much needed and steady income. Please keep up this excellent work!

Two Pubs is Oswestry have boxes for donations to RIN on the bar, so if you fancy a quick pint while you are donating, drop in at the Fox on church Street, or the Butcher's Arm's on Willow street. Food available too!



Click here to return to page top

To see Last years News page please click here.
To the News page for 2017 please click here.
To see 2016 News page please click here.
To see the News page for 2015 please click here.
To see the 2014 News page please click here.
To see News Page for 2013 please click here.