THIS IS AN HISTORICAL PAGE LEFT IN UNEDITED FOR COMPLETENESS.
Rehabilitation


All adult dogs spend a minimum of one month in various stages of rehabilitation.
To begin with, in the commercial kennels, it's an initial assessment for getting to know the dog,
via the kennel staff, our own team and volunteer visits.
This then highlights any potential problem areas that need to be addressed in our rehabilitation facility.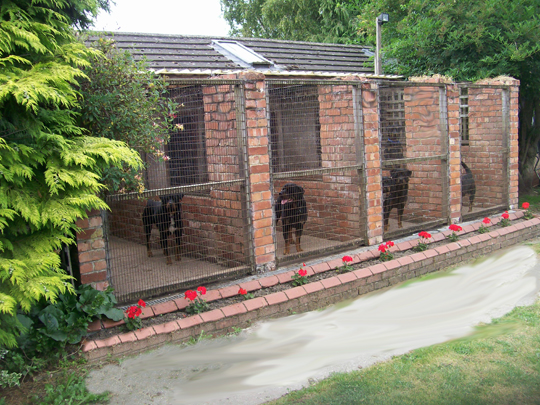 Once they move to this facility they are worked with on a daily basis, socialised with people, large and small in every day situations.
They are encouraged to live and interact with other dogs and assessed with other pets and livestock. Below is Roddy (the Rottweiler)
being introduced to Rebel as part of his assessment and socialization programme.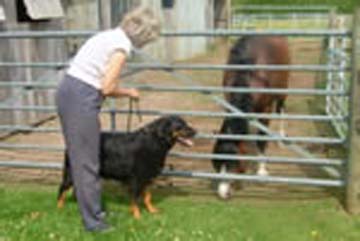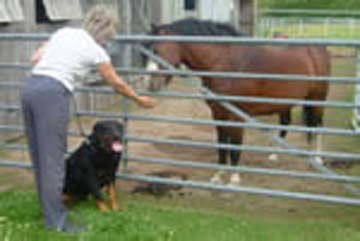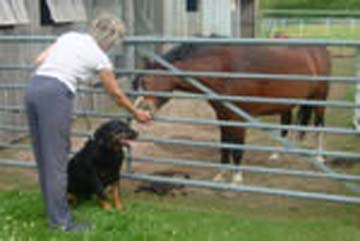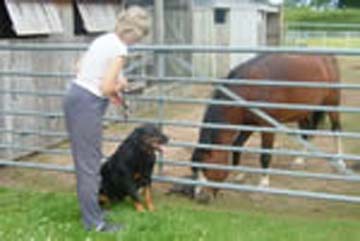 Below is Trudy a young bitch, who was picked up as a stray and came to us from a dog pound!
She's pictured with Rags who helps us assess dogs suitability to live with small breeds.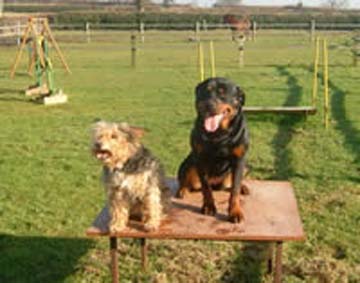 Trudy going through her paces.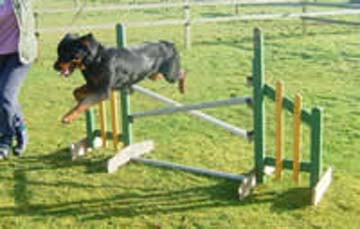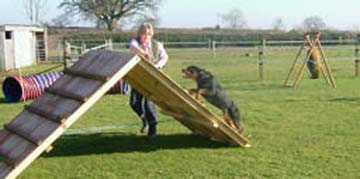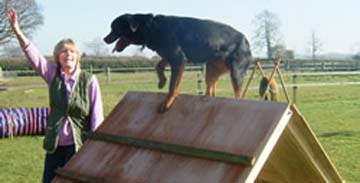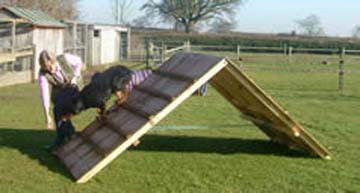 All dogs are given daily exercise, including walks through a secure 5 acre wildflower meadow,
time out of kennel-runs in secure paddocks and the chance to excel at agility.
Also whilst there ALL dogs are fed a natural raw diet which we feel is more interesting for them and helps reduce some behaviour issues.
It also greatly improves their heath status and drastically reduces Veterinary bills. Here is one of our rescue dogs.
He came to us from a dog pound on death row.
He had a number of heath problems including double entropian and malnutrition.
(left hand picture.)
After being fed a natural raw diet and having a surgical procedure to correct his entropian he has now gone to his new home.
What a difference! (right hand picture.)
We also like to swim our dogs, it helps so many muscle groups and they really do enjoy the experience after the initial reticence
shown by some, though not all, of the dogs in our care.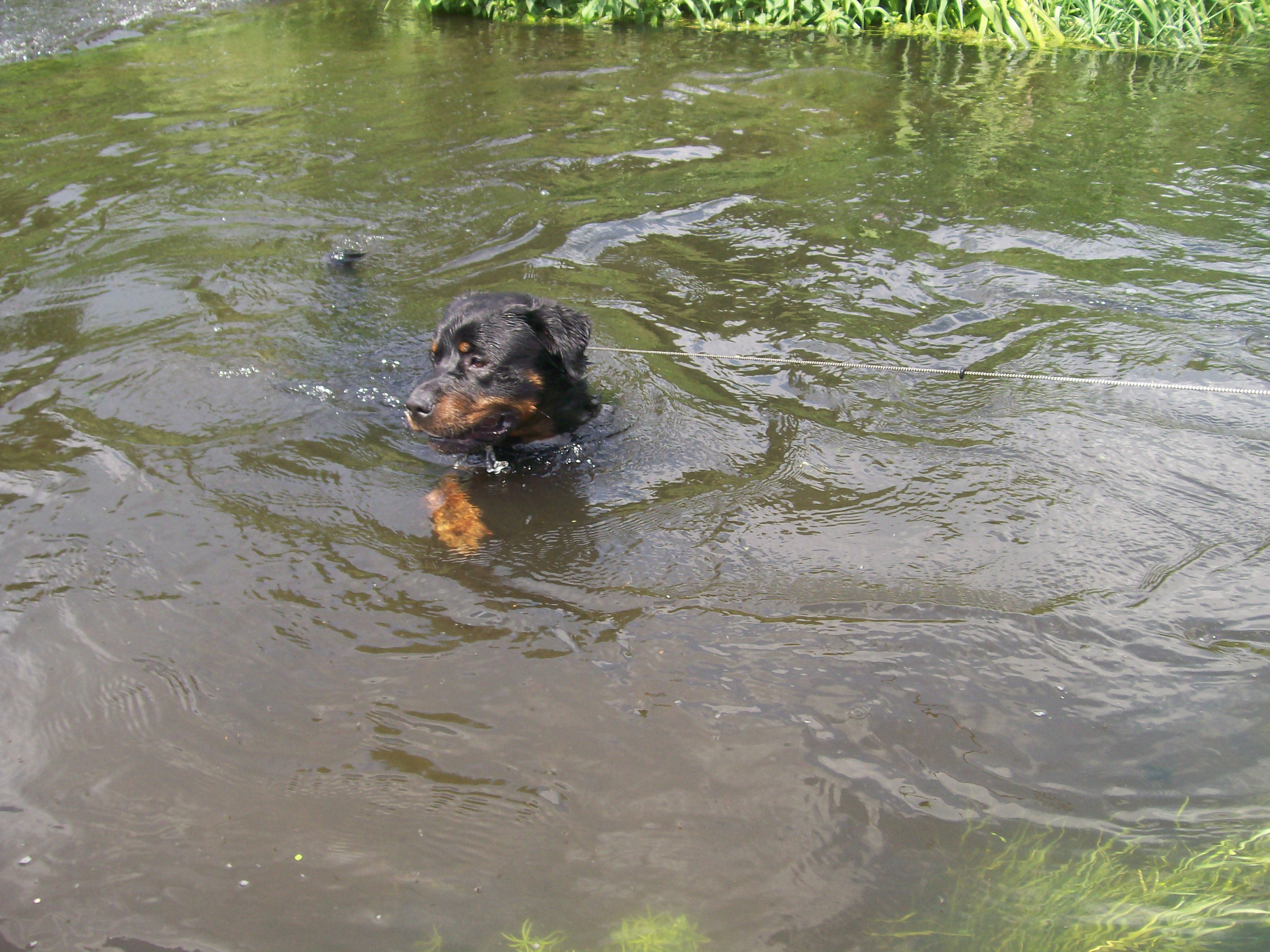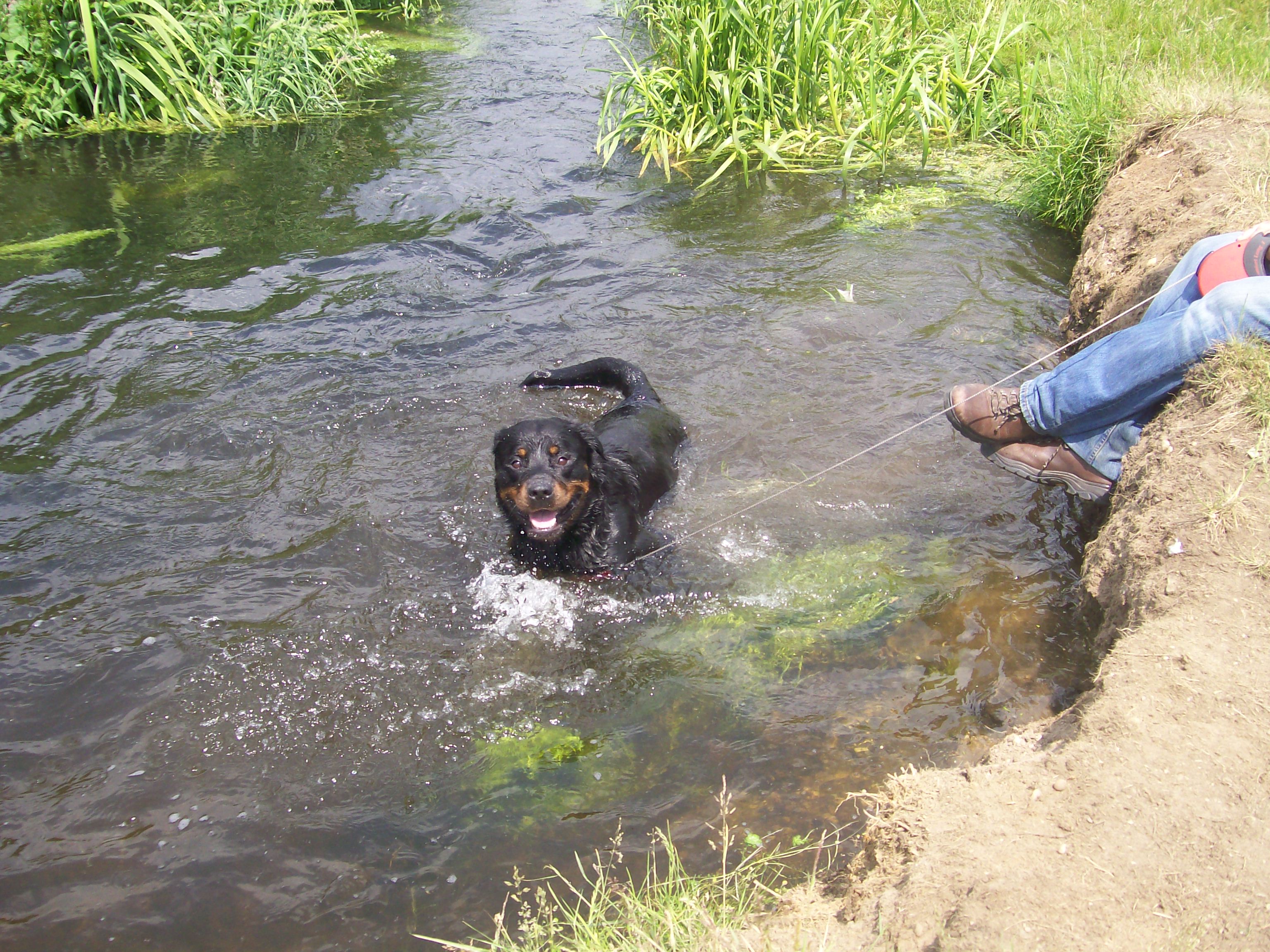 Occasionally we use 'indoor pools too!
Dino
We also find that giving them a 'job' to do is a great training aid and helps to focus their minds,
here is James with Flynn on the left and Bishop on the right happily wearing the 'training bags'
and Sam in the middle with Rosie and Roxanne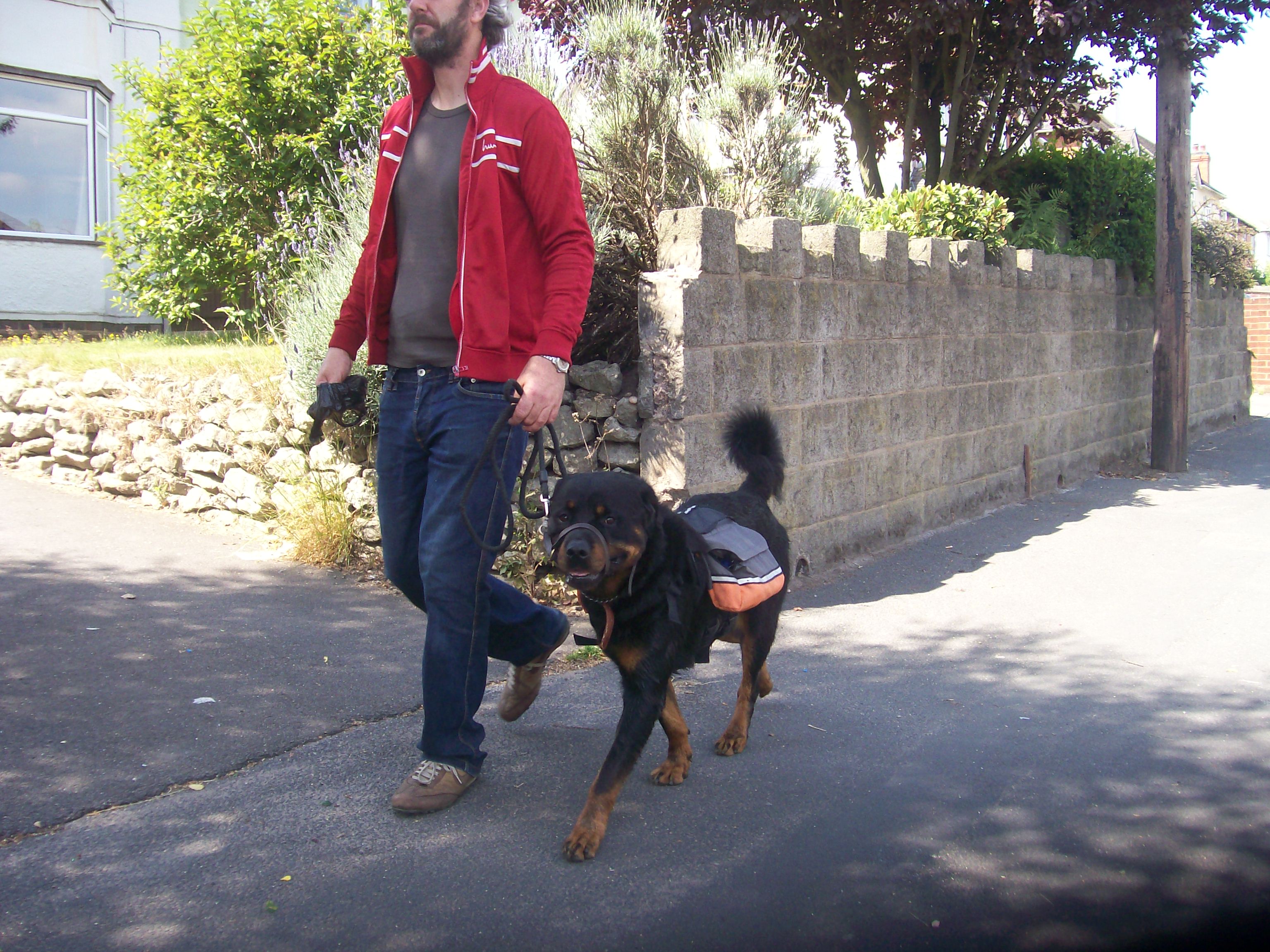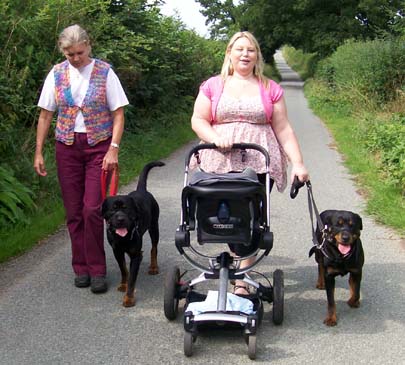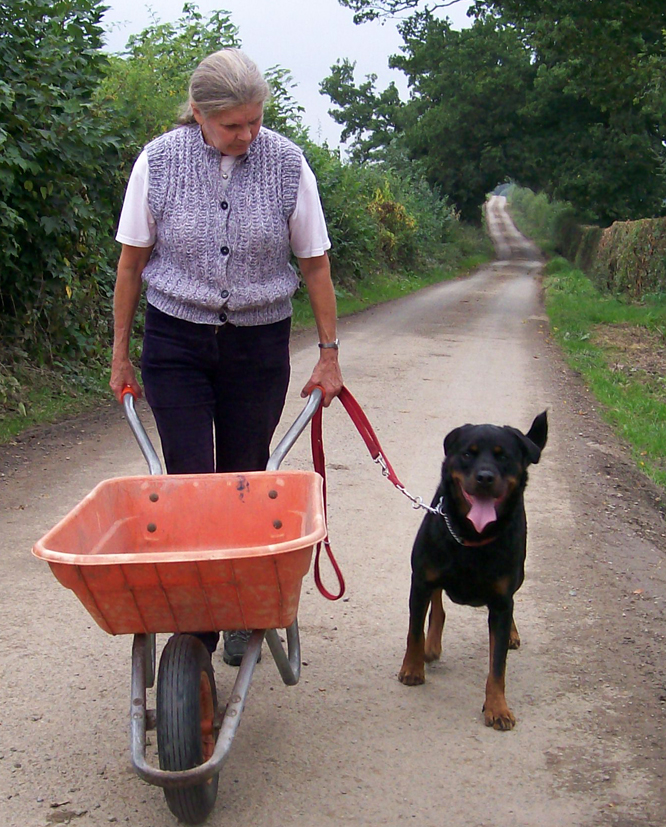 Cheryl, Gwen and our youngest ever dog walker, Cheryl's three week old baby Luke!
And Oliver learning to walk with a 'barrow', pram comes next!
Rehabilitation seems to be the order of the day for an increasing number of Rottweilers in need,
so far we have only come across one dog that wouldn't change.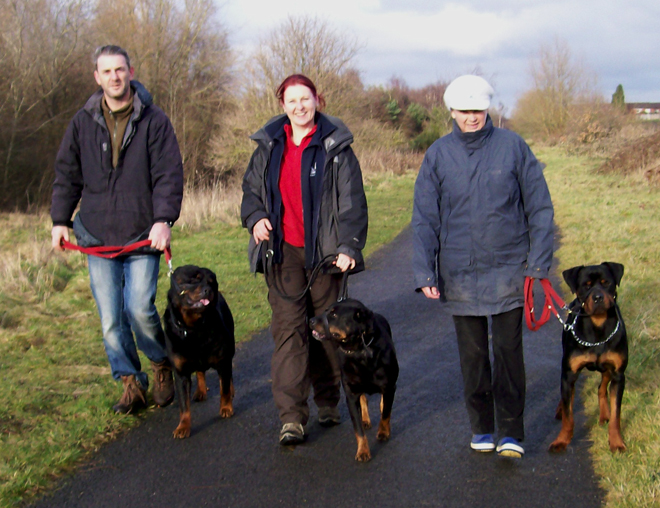 James Sam And Gwen with Erik Tess and Jimmy Mac
Please continue your help with donations and sponsorship so that we can carry on with this vital work.
Because quite honestly, we simply cannot continue without your help.


shenanigans by the river with 'Brandon'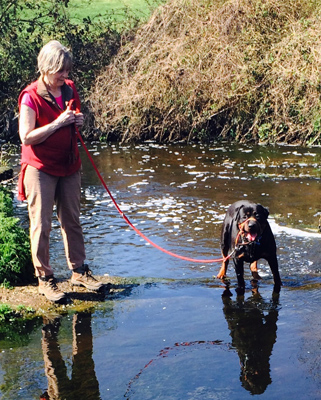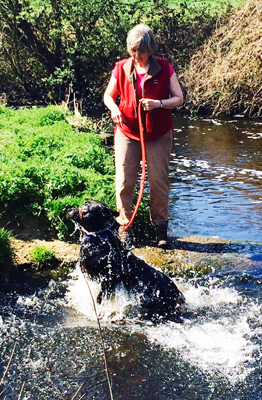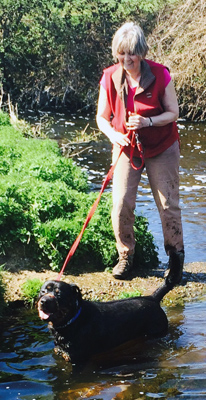 We're not altogether sure if Brandon was willing, the handler obviously enjoyed it!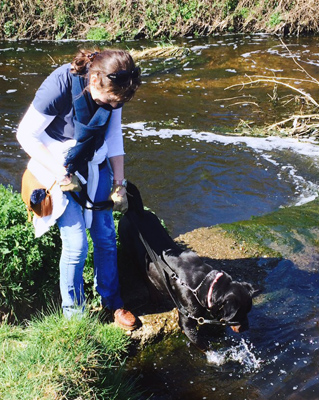 S'no good, look I'm just too heavy, I just fall through!

Please, Press any donation button or to download a Direct Debit Form Click here